The martial arts bug bit me in 1984 when I signed up for Judo classes as an after school activity. It was not a particularly auspicious beginning, as my younger brother and I often 'practiced' around the house, with frequently disastrous results. My mother was most likely relieved when three months later the youth center housing the Judo program burned down, ending the classes. I returned to the Martial arts through a friend I met in college. His name was José Estevez. He was a member of the UConn Tae Kwon Do club, and wanted a workout partner. We were both pretty serious about our training, but were unfortunately not very serious about college.
Upon separation from the university, we both began studying Kempo in March 1990 under Scott Packard in Cheshire, Connecticut. Eventually, I returned to UConn, and had occasional private lessons at the Willimantic Fred Villari's Studio. Unfortunately, I could only get there by bus so they were not as frequent as I had hoped, but they sufficed to give me things to work on while at college. Whenever home, I would continue training with Scott. Unfortunately, a few years later, Jose was killed as a passenger in a drunk driving accident. I lost a good friend and the world lost an exceptional martial artist. After moving to the Cape, I continued my training under Chris Hatch at Masters Centers in Orleans. In the succeeding years, I have been promoted; I was awarded shodan in 1997, nidan in 1999, and sandan in February of 2001. Since October of 2001 I have also been studying Kempo-jutsu under the mentorship of Professor Feliciano 'Kimo' Ferreira. Professor Ferreira has helped me connect my current art to the Kajukenbo and Hawaiian roots that it evolved from. On September 20th, 2003, I had the privilege of testing for fourth dan with Professor Kimo. On the night before the East Meets West seminar on July 21st, 2006, I had the distinct honor of testing for fifth dan, in front of a board including Professor Kimo Ferreira, Sigung Rudy Duncan, Master Chris Hatch and Master Jesse Dwire.
Witnessing the promotion were Motobu Chosei Soke and Inaba Takeji Hanshi of the Motobu Ryu and the Motobu Ryu Udonde. On May 15th, 2009 I was promoted to 6th Dan by Professor Kimo Ferreira, and on October 21st, 2011 almost exactly ten years since the evening Professor and I talked about the possibility of learning his entire system, I tested for 7th Dan. I have worked to record, preserve and promote his system along the way, and I continue to do so.
For the last many years I have had the opportunity to teach at the Cape Cod Martial Arts Academy in Orleans, Massachusetts (formerly known as Masters Self Defense Centers Orleans), and  began teaching for the Cape Kempo Club and continue to do so and also to teach privately. As of September 2015, I rebooted the club as Martial Fitness Cape Cod with my student Brad Krum teaching at the Chatham Community Center. I have also taught seminars in various martial arts schools in Connecticut, New York and Massachusetts, including a teaching slot at the New England Martial Art Festival in 2013. From February 1999 through 2005, I had the opportunity to teach for the town of Harwich in their Enrichment and Adult Education programs. I have enjoyed teaching Karate and self-defense at the Elementary and Middle School levels, and Tai Chi for the Adult Education Program. For well over fifteen years I have been researching the history of Kempo. I got tired of the inconsistent stories, the unverifiable legends, and the outright lies about the history of the art to which I have dedicated more than a quarter century.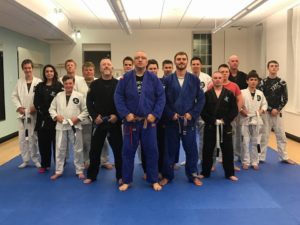 In addition to my Kempo / Kenpo studies, I have engaged in supplemental martial arts training, through seminars and the generous help of friends in the martial arts community. I have had the privilege of training with many great martial artists, some famous and some not, but each very talented and a great asset to the martial arts community. I am especially grateful to my friend Arthur Sennott for his excellent instruction in Kali, Russian martial arts, and beyond over the years. Each and every experience has given me a new perspective on my Kempo training. Acknowledging the importance of groundwork (and some gaps in my game made patently obvious courtesy of Hybrid Fighting) I have pursued training in Brazilian Jiujitsu, and as of December 19th, 2016 have earned a Blue Belt under Michael Deluca in Brazilian Jiujitsu. We have welcomed John 'Pb' Herring to our family at Martial Fitness Cape Cod, and I assist with the BJJ program as well. 
I graduated in August 1993 from the University of Connecticut with a BA in Psychology. I spent 15 years working for the May Center for Child Development, most recently as a Behavior Program Specialist until the closing of the program. I'm now a Math, Science, STEM and instructional technology teacher at Monomoy Regional Middle School (5-7) level. At the end of 2007, I completed a graduate certificate program at Bridgewater State College in the Post-Baccalaureate program meeting the requirements to upgrade my State of Massachusetts Teaching Certification in Physical Education. I hold a Massachusetts Preliminary teaching certificate in Physical Education for grades PreK-8 and Initial Licensure in Physical Education for grades  5-12. I also hold Professional License for grades 5-8 Math / Science and grades 5-12 Technology / Engineering. In February 2014 I was awarded a Masters Degree in Education in Curriculum and Instruction with a Science Education Option at the University of Massachusetts, Lowell. I am a Certified Strength and Conditioning Specialist through the NSCA (National Strength and Conditioning Association), a Kickboxing Fitness Trainer through the Kickboxing Fitness Institute,  and a Fitness Coaching Specialist through Exercise ETC.